Dubai is what you would call an expat hotspot. When expats make up approximately 80% of the population, how could it be anything else? You might not even meet a local Emirati during your entire time there if you don't do business locally.
So, why is Dubai so popular?
Sure, everyone knows that you pay no income tax in Dubai and that's certainly a major lure.
But the most enticing draw is the lavish lifestyle you can enjoy in Dubai. You'll be spoiled for choice when it comes to the creme de la creme of apartments in some of the tallest buildings in the world, yacht parties, extravagant nightlife options, and more.
Life in Dubai is very high-tech – futuristic even – and definitely luxurious. It's like Las Vegas, without the casinos.
Even though Dubai was established in 1833, the major turning point in its development was the discovery of oil in the 70s. Since then, it has become a sprawling metropolis and a major trading center – the Hong Kong of the Middle East, some say.
It's one of the seven emirates that make up the country of the United Arab Emirates. However, it usually stands on its own on the global scene.
All that said, Dubai doesn't hand out citizenship, ever.
So, even if you extend your residence status multiple times and spend decades in Dubai, don't ever expect to call yourself an Emerati.
Choosing to live in Dubai means choosing to live in a desert. With that comes some extreme temperatures, especially in the summer months.
You definitely don't want to be spending time in Dubai from May to September, when temperatures soar and people can just about manage to scurry from air-conditioned car to air-conditioned house.
Many expats leave Dubai for their holidays during that time and you'd be wise to do the same.
And while there is pretty much no rainfall to speak of, sandstorms are quite usual in Dubai. These not only decrease visibility but can even cause breathing difficulties and bring the airport to a standstill.
The neighborhoods in Dubai are loosely defined; there are no street addresses. This means it could be a total nightmare to get a parcel delivered, but if you can look past it, Dubai offers plenty of neighborhoods with numerous of amenities.
The downtown is where it's at. With all the cafes, nightlife options and plenty of amenities nearby, you would never have to leave this area if you lived in Dubai.
The Marina is another popular neighborhood, not to just moor your yacht but also to live. Go people-watching at the water's edge and enjoy the numerous cafes and the beach that's within easy reach.
It's one of the few areas where foreigners and expats mix with local Emiratis and Gulf nationals, so if you're after that, you should live at the Marina.
The man-made Palm Jumeirah is probably the most luxurious and expensive area of them all. You have likely seen the palm leaf-shaped islands that make up The Palm Jumeirah and there are plenty of real estate options there.
A 4-bed/5-bath villa costs about $110,000 a year to rent and get access to the stunning views.
Luxury Real Estate Options in Dubai
With more billionaires than anywhere else in the world, Dubai is definitely not short on luxury real estate. You'll have plenty of options, no matter what your requirements are.
If you want to live the good life, you must check out the Burj Khalifa, the Dubai Mall apartments or any other luxury apartment building in the city center (of which there are too many to name here).
Le Reve has apartments and penthouses that will take your breath away, with sweeping views of not just the marina, but the Persian Gulf too.
Check out the 4/5 bed penthouses that are for sale, starting at $3.5 million.
And if you want something smaller, La Residencia del Mar complex and the Emirates Crown both have plenty of good options in the Marina area.
Take a look at these gorgeous apartments, starting at $1 million.
With hopes of helping our clients choose a base where they'd have a great life, we have created the Nomad Quality of Life Index.
For each city on the index, we assess six different factors and score each one on a scale of one to ten before compiling them into a weighted formula to produce a final score that indicates just how ideal the location is for Nomad Capitalists seeking to create a global lifestyle.
Here's how Dubai scored:
Overall, we're giving Dubai a solid 8.8/10, mostly thanks to the high quality of life in the city and the ease of doing business there.

88%

88%
What is the Cost of Living in Dubai?
The cost of living in Dubai can easily compare to the costs of living in London or New York. It's one of the most expensive places to live in the world.
Cafes and restaurants are extremely expensive, on average – think $12 beers and $5 cappuccinos. And because it's a desert where everything has to be imported, groceries aren't exactly cheap either.
Renting a luxury flat in a central area will easily cost $5,000 a month, but at least properties are abundant.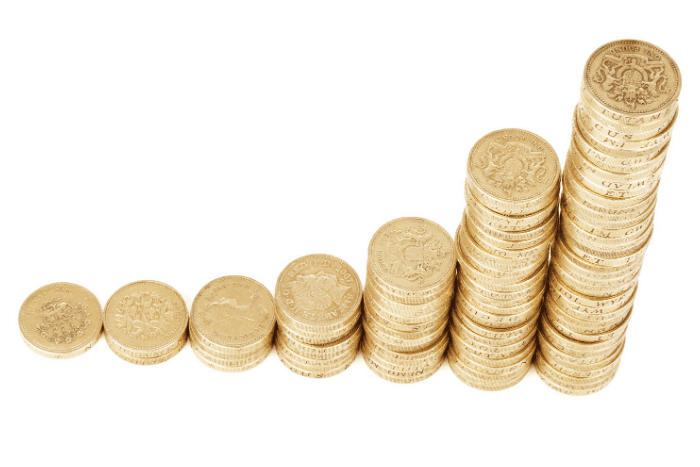 The Best Co-working Spaces in Dubai
Even though you might not be going to Dubai to work, it is still great to know whether there are suitable working spaces if you ever need them.
myOffice Dubai Marina:

A working space where staff go above and beyond to accommodate you and all of your needs. The offices at myOffice are spacious and well-equipped, and the views can't be beat.

WitWork:

A place that's open longer than most of their competitors (8AM-8PM), WitWork is certainly worth a shot. Centrally located, WitWork is that perfect hideout for doing productive work. Forget noisy cafes.

Bisdesk:

How about a private office in the business area of Dubai? Bringing together start-ups and long-established businesses, Bisdesk also offers 24/7 office access.
It's always good to know that Dubai has the fastest internet connection in the Gulf so you can connect and manage your business from anywhere in the city. But Dubai is also one of the most expensive places in the world to have broadband.
No matter the internet speed or which co-working space you go for, you'll need to install VPN software to access content that might be deemed as offensive by the Dubai government.
Interestingly, the government has banned all app calls, so if you want to Facebook or WhatsApp call your business partners, or even family members, make sure you install VPN on your devices before you arrive in Dubai.
How Accessible is Dubai?
The main airport serving Dubai is the Dubai International Airport and it holds many accolades:
The world's busiest airport by international passenger traffic,

The sixth-busiest cargo airport in the world,

The busiest airport for Airbus A380 and Boeing 777 aircraft,

The airport with the highest average number of passengers per flight, and

The list goes on…
Needless to say, Dubai is highly connected to the world, making it a great base for those using our Trifecta Strategy.
You can hop on a plane for a weekend trip to Europe, or fly directly to New York, London, Sydney, Beijing and many other major airports in the world too.
When it comes to connectivity, Dubai has nailed it.
Meanwhile, the region itself is connected by roads only, so you'd have to take your car out to visit nearby cities and emirates, e.g. Abu Dhabi.
How Safe is Dubai?
Did you know that Dubai police drive Bugattis, Ferraris and Lamborghinis?
And yes, it's all for the show, because Dubai is one of the safest cities in the region, second only to Abu Dhabi. According to The Economist's Safe Cities Index, it's safer than Rome and Beijing.
That's remarkable because it's such a diverse city. At the same time, pick-pocketing and muggings are unheard of in Dubai.
That's probably because it has strict laws that are tightly enforced and the crime levels are extremely low because of that. Expats and tourists are unlikely to run into safety issues.
That said, it's a highly traditional society where public displays of affection are banned, the LGBTQ community is openly discriminated against, and Jewish people aren't even allowed to visit.
Make of that what you will.
What Are the Entertainment Options in Dubai?
In Dubai, there really is no limit on places where you can splash your cash.
From luxury shopping, indoor skiing, yachting and absolutely everything in between, if you have the cash, Dubai has got the goods.
And even though, technically, Dubai residents cannot consume alcohol, plenty of it is available to foreign tourists and expats in licensed bars and clubs.
Where Are the Best Places to Eat and Drink in Dubai?
Simply put, the food scene in Dubai is insane. Since there are so many nationalities represented, you can try all types of cuisines.
Pierchic Restaurant:

With sweeping views of the Arabic Gulf and a Mediterranean seafood menu, this restaurant will please even the most sophisticated tastes.

Ruya Restaurant:

Have you ever tried an Anatolian restaurant? Drawing inspiration from the past, Ruya serves food that's perfect for sharing. Unwind at the Marina.

Indego by Vineet:

Michelin stars are always a great indicator of quality and Indego by Vineet is no different. This will be the place where you eat some of the most delicious Indian food you've ever had.

Nobu:

Offering traditional Japanese fare with a South American twist, Nobu is another crowd-pleaser in Dubai. Located at the Atlantis on The Palm, it offers a unique experience.

Ronda Locatelli: This restaurant is run by Giorgio Lucatelli, a chef who earned his first Michelin star back in 1999. For over two decades, he's delighted the world with amazing Italian flavours, and now he does exactly that at the Ronda Locatelli within the Atlantis (The Palm) resort in Dubai.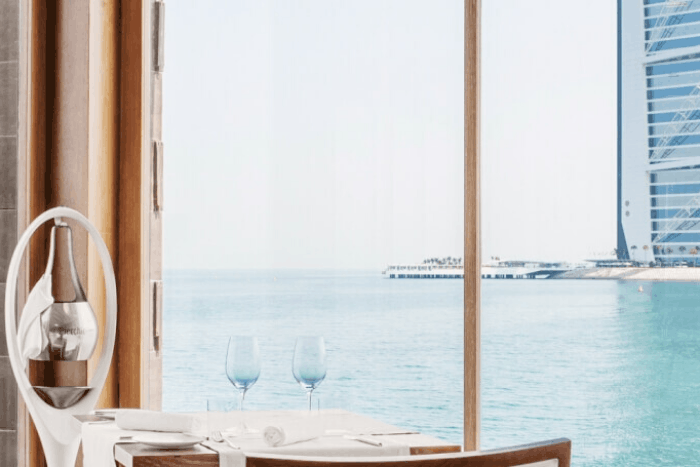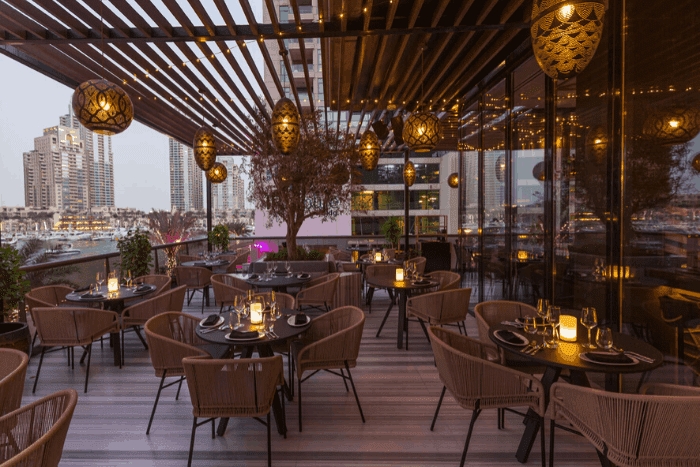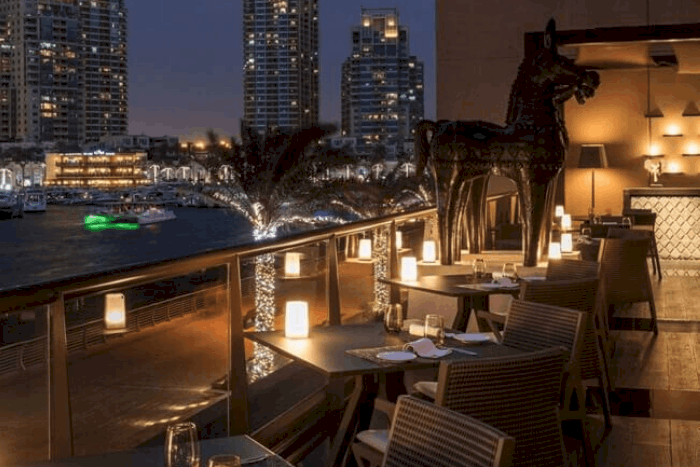 What is There to Do and See in Dubai?
There is so much to see and do in Dubai that there really is no putting it into a list.
Here's just a quick sampler of the things you could get up to:
The Burj Khalifa: Of course, the obligatory visit to Burj Khalifa's 148th floor. You'll feel at the very top of the sky. Just make sure you don't have vertigo! And when you get down, check out the Dubai Fountain, which truly rivals the dancing fountains of Las Vegas.
Yachting: You can rent a luxury yacht in Dubai; what about a 44-foot one, starting at $300 per hour? Or perhaps you'd like to buy your own to use when you're in Dubai and then moor it at the exclusive Dubai Marina? Everything is possible in this emirate.
Sand dune adventures: Dubai is located in the middle of a desert, which means there are quite a few options for dune adventures. Rent a buggy, slash through the sand in an SUV, or opt for a sunset camel ride.
Luxury shopping: Every single brand you can think of probably has a store in Dubai and no wonder. Giant malls populate the entire city and shopping is one of the most popular past-times in Dubai, especially during the scorching summer.
Ski Dubai: One of the largest indoor ski resorts, it's perfect for when you want a change of scenery. From hot and humid to nice and cool, it's a great way to pass your free time.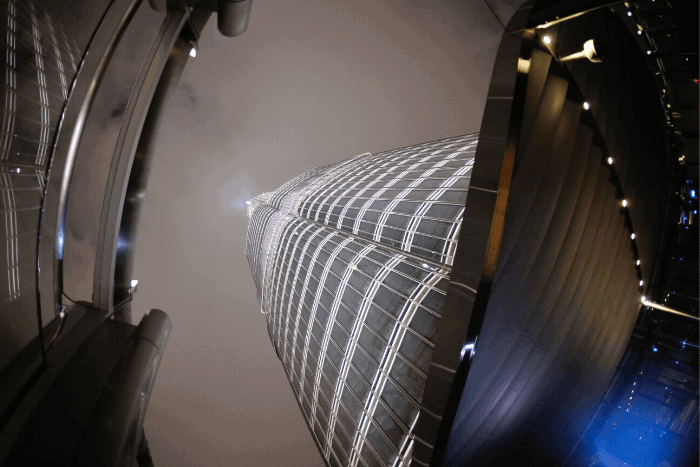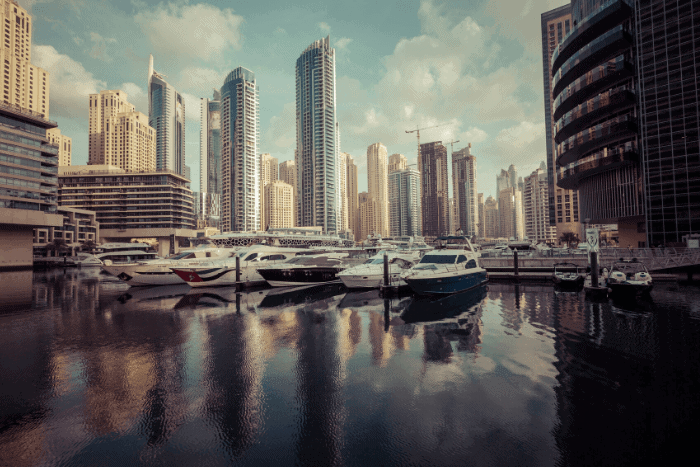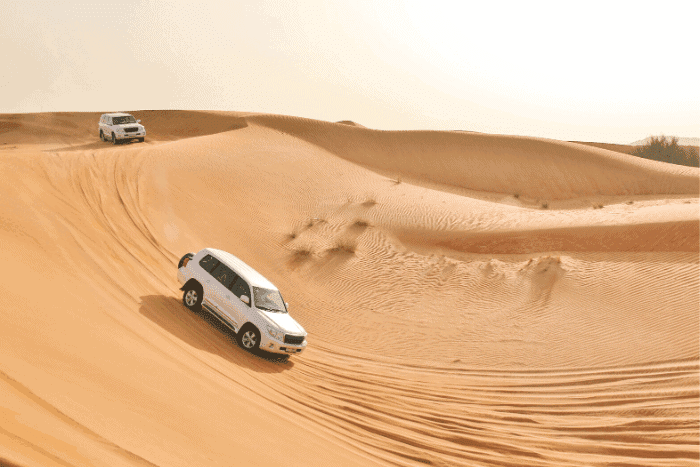 How Open is the Culture to Outsiders?
There is no need to learn Arabic to thrive in Dubai. English is the most widely spoken language. So, although Arabic is the official language, you can easily get by without it.
And, seeing as 80% of Dubai's population is foreign, you could safely assume that it is quite open to outsiders. If you're a wealthy man, this will certainly be true. You'll be widely accepted.
If you're a woman, a racial minority (i.e., not white or Arabic) or a member of the LGBTQ community, you will have a less than pleasant time in Dubai due to the many restrictions.
Friendships are fleeting in Dubai, a city where people come and go all the time. Expats often prefer to make friends with their own kind.
Plus, it's a place where many come to either make their money or spend it, so Dubai can be said to be very money-focused.
Overall, Dubai is a great option for those seeking a luxurious nomad base.
The visas are extremely easy to come by and setting up a business is encouraged in Dubai. You can also set up a bank account with no problem at all.
Dubai won't tax your income, nor will it tax the profit of your business. It's a pretty great expat destination, wouldn't you say? Be sure to let us know below about your experiences in Dubai.
While it might fit within a holistic offshore strategy that we here at Nomad Capitalist would approve, there are definitely some peculiar cultural differences to take into consideration.
As always, moving to Dubai is not a simple decision to make. Lots of carefully planning should take place before you make any geographical moves.
Business tax, personal tax, residency requirements and everything in between – we can help you with that here at Nomad Capitalist.
Source: https://nomadcapitalist.com/2020/03/12/living-in-dubai-uae-an-expat-guide/